Shoplifting shaming videos shown in store 'cut crime'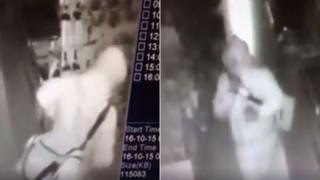 A shop owner says screening CCTV footage to "shame" shop lifters in his store has almost completely cut out thefts.
Videos of crimes taking place are being shown at the Wellworth-a-£ discount shop in Harwich, Essex.
Laurence Munday said his cameras were capturing an average of six shoplifters a month on film until screenings began in October.
He said no thieves had been filmed so far in January.
The High Street shop has 32 cameras around the aisles and this month they have been showing video of previous thefts on a television customers can watch.
For coverage of this and other stories visit the BBC Essex Live page
Mr Munday said he had thought up the idea after a charity box had been stolen. He put the CCTV footage of it onto his Facebook page and was "stunned" when 30,000 people watched it.
"We realised social media was a powerful tool, but it could work better if we showed videos in the shop," he said.
"It clearly works as a deterrent because it's a small town and thieves seem to realise they will be shamed in front of their peers and neighbours."
Mr Munday said there had almost certainly been other thefts not been spotted on CCTV footage.