Kirby Cross hit-and-run: Husband 'can't forgive' driver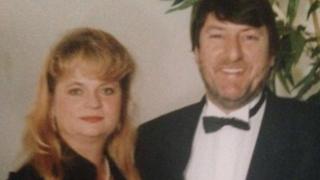 The husband of a woman killed in a hit-and-run crash said he can never forgive the elderly driver for not stopping.
Cyril Fayers, 90, of Frinton, Essex, was given a suspended sentence for running over Barbara Cyfrowicz in 2014 and trying to cover up the crime.
He hid his red Peugeot in a barn and later claimed damage had been caused by concrete falling from a bridge.
Graham Bristow, Mrs Cyfrowicz's husband, said it was "atrocious" Fayers did not stop after the crash.
He said he would appeal against the 20-month prison sentence, which was suspended for two years.
Fayers left 54-year-old Mrs Cyfrowicz lying in the road on Boxing Day after he struck her on a zebra crossing in Frinton Road, Kirby Cross. She died in hospital the next day.
"If he had stopped I could have started to forgive, but there's nothing I can try and forgive him for; it's atrocious," Mr Bristow said. Mr Bristow, who had been with Mrs Cyfrowicz for 25 years, said he was angry that Fayers was not jailed.
"It has not given us a healing process," he said. "He showed her no compassion at all. He knew what he had done and not once did he attempt to brake - that's what I can't forgive."
Local Live: Read more about this and other stories from Essex
Fayers told police his car, that was being hidden, had been borrowed by a relative to travel to Ireland.
He said he was at home at the time of the collision but was arrested after forensic tests on his clothing revealed glass and paint fragments from his car.
Fayers admitted causing death by careless driving, failing to stop, failing to report a road traffic collision and perverting the course of justice at Chelmsford Crown Court.
Judge Patricia Lynch QC described his behaviour as "cowardly, deceitful, manipulative and in short, a disgrace".
She also banned him from driving for life.