Dog found in Dagenham has 'football-sized' tumour removed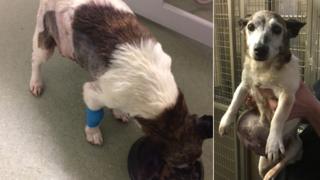 A "football-sized" tumour has been removed from the abdomen of an abandoned dog.
The female Jack Russell, discovered alone in Dagenham on 7 January, is being looked after by the South West Essex RSPCA.
Insp Mitchell Smith said the dog was in "a terrible state", but after surgery to remove the 2lb 10oz (1.2kg) mass was feeling "a lot better".
The charity is appealing for a foster home for the dog.
The 12-year-old, which staff called Beautiful Brilliant Betty, was also covered in fleas, has cataracts, poor hearing and needed dental work.
The RSPCA is appealing for information on how the dog came to be abandoned.