Southend trains increased after commuter campaign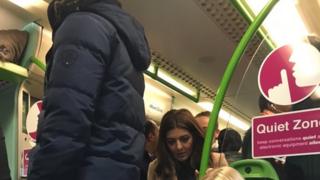 Commuters are to get extra trains, 1,000 more seats and a "cash-back offer" after they campaigned against timetable changes.
Operator c2c changed its timetable between Southend in Essex and London in December, sparking protests.
Leigh-on-Sea commuter Jonathan Eley said this led to more stops, longer journeys and "crammed" passengers.
c2c managing director Julian Drury said the extra services would be introduced from Monday.
Follow live updates on this story and more Essex news
The changes resulted in more services stopping at West Ham and Barking, increasing the commute for Essex residents by between five and 10 minutes, according to Mr Eley.
He claimed c2c was trying to "maximise its revenue by packing people on in east London".
But the company said it had introduced the changes to accommodate a "huge growth" in passengers.
'We're sorry'
Mr Drury said: "What's really taken us by surprise, and in the evening in particular, is 19% more passengers.
"That's nearly 5,500 people over the last few months, so we have to cope with that growth."
Longer trains will be introduced at key commuter times in the morning and evenings, the number of trains stopping at West Ham and Barking will be reduced and all season ticket holders will be given two days free travel.
"We didn't get [the timetable changes] right in the evening, we've come clean and we're providing more coaches and a cash-back to say we're sorry," said Mr Drury.
Westcliffe-on-Sea commuter Demelza Wenlock said the changes "were not good enough" because the commute was still longer than it had been and this was "affecting people's quality of life".