Shoeburyness minke whale carcass removed from beach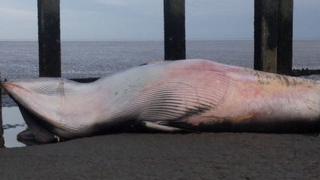 A dead whale that washed up on an Essex beach last week has been removed.
The 24ft (7.4m) minke was found on East Beach, Shoeburyness, on 4 January. The tide then moved it to part of the beach used as a range by the Ministry of Defence, and not open to the public.
Scientists believe the whale died after being struck by a ship.
The carcass was removed on Saturday by the company that manages the beach for the MoD and taken to an "incineration facility".
A spokesman for the company, QinetiQ, said: "[We] monitored tides and the weather to identify a window in which conditions were favourable to retrieve and dispose of the remains.
"After consulting several expert groups, QinetiQ used heavy-duty vehicles to lift the carcass over the sea wall, where a specialist contractor was able to load the remains for transportation to an incineration facility."
Last week the company warned people to keep away from the dead whale as it could "constitute a natural biohazard".
Minke whales, found throughout the northern hemisphere, grow to between 23ft and 32ft (7m to 10m) and can live for up to 50 years.