Pupils rescued from bus trapped in Farnham floodwater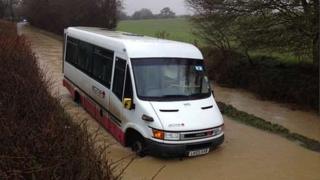 Six schoolchildren and their driver have been led to safety after the bus they were in became stuck in floodwater in Essex.
They were trapped when the bus stopped in water in Mill Hill in Farnham near Bishops Stortford at about 09:10 GMT.
The driver "thought he had stopped in a large puddle" to let a lorry go the other way but it was "deeper than expected", the fire service said.
A spokesman said the children were "all very brave".
More on this story and others from Essex
Essex Fire and Rescue said the vehicle had become stuck in water from a nearby stream which had overflowed following heavy rainfall overnight.
Firefighter Dave Morland said: "It seems as [the driver] waited, water entered the exhaust, causing the bus problems and the engine cut out leaving the driver and his passengers stranded.
"We carried the children to the water bank, they were all very brave and we were pleased to get them safely out of their predicament quickly and safely.
"A local company took them into their office where they warmed up."
Robert Sinnott, from ACME transport services, which operates the bus, said it was recovering the vehicle and all the children were "fine and had got to school".
"We notified the school that they would be late," he added.