Jordan Taylor trial: Laura Davies stabbing 'self-defence'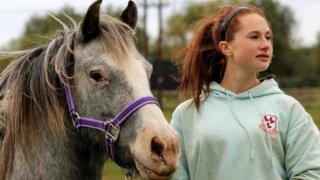 A man accused of repeatedly stabbing his ex-girlfriend to death was trying to defend himself and cannot remember most of the attack, a court heard.
Laura Davies, 21, suffered at least 80 stab wounds near the Essex Horse and Pony Protection Society base in Basildon, where she lived and worked.
Jordan Taylor, 22, of Basildon, denies murder.
He told Chelmsford Crown Court he could not remember chasing Miss Davies outside and repeatedly stabbing her.
The horse-groomer is thought to have ended their relationship just moments before her death near the flat they shared on 3 July last year.
Mr Taylor told the court: "I stood in the kitchen facing Laura and she pulled a knife out on me."
He told defence barrister Vincent Coughlin QC that a "frenzied" Miss Davies was punching and kicking him and he stabbed her twice in the stomach "so the attack would stop".
The jury heard the unemployed man had no recollection of allegedly chasing his ex-girlfriend out of the flat and continuing to stab her in front of a passer-by.
Mr Taylor told the court: "As soon as we escaped through the door, it sounds crazy, but this is what I see in my head - it's as if watching it from a bird's eye view.
"I couldn't think or feel anything. It's just these spasms through my body."
He denied a suggestion made in the court that he deliberately made "disfiguring" cuts to the 21-year-old's face and breast as "punishment" for her trying to end the relationship.
Mr Taylor was pulled off Miss Davies' dying body by the police, the jury was told.
The trial continues.