Stolen iPad selfie couple sought by Essex Police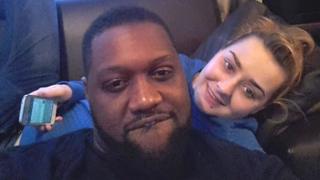 Two people who posed for selfies using an iPad stolen in a burglary are being hunted by police.
The photographs were sent to the tablet owner's iCloud account and show a man and woman hugging on a sofa.
The iPad was one of a number of electrical items stolen from a house in Dacre Crescent in Aveley in Essex.
Essex Police said the house was broken into at some point between 14:30 BST on 11 December and just after midnight on 12 December.