Jordan Taylor trial: Murder accused 'controlled' Laura Davies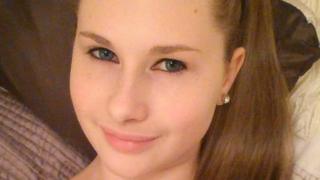 A man who stabbed his ex-girlfriend to death had taken control of her bank account and prevented her going out, a jury has heard.
Laura Davies, 21, suffered at least 80 stab wounds near the Essex Horse and Pony Protection Society base in Basildon where she lived and worked.
Jordan Taylor, 22, of Basildon, denies murder and is on trial at Chelmsford Crown Court.
Members of her family said she was unhappy as Mr Taylor was "controlling".
'Often argue'
Miss Davies is thought to have ended their relationship just moments before her death on 3 July last year.
Giving evidence, her mother Dyanne Lambert said he would not allow her to wear short-sleeved or low-cut tops and they would often argue.
Ms Lambert added: "She became very quiet and didn't want to talk about what was going on."
The couple had started seeing each other at the start of last year after Miss Davies allowed him to move into her flat when his parents threw him out.
Half-sister Joanne Bright told the court when Miss Davies first met Mr Taylor she had described him as "a bit weird and full-on".
'Called her slut'
As their relationship developed Miss Davies became quiet and withdrawn and would make excuses not to meet family, the court heard.
"She became cut-off and subdued and was not her usual self," she added.
"She told me Jordan was very controlling, that he didn't like her going out and when she did go out one night there was a major row and he started calling her a 'slut'."
Just hours before she was killed, Miss Davies and Ms Bright had a conversation on Facebook.
She added: "She said he had become very controlling and had decided to end their relationship but didn't want to see him out on the street.
"She couldn't take being controlled any more. He had taken over her bank card and she had had enough."
Jurors heard the attack began in the flat. When Miss Davies fled outside in her pyjamas, Mr Taylor is said to have chased after her and continued stabbing her.
The attack was so forceful that the knife used was bent to a 45-degree angle.
The trial continues.