Down Hall hotel pool deaths: Hotel fined £200,000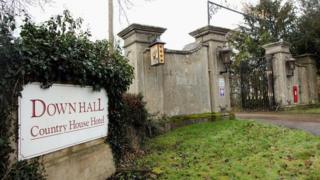 A luxury hotel, where two guests drowned in a pool, has been fined £200,000 over "a culture of systemic health and safety breaches".
Komba Kpakiwa, 31, and Josephine Newahun Foday, 22, died at the four-star Down Hall Country House Hotel in Hatfield Heath, Essex, in April 2013.
A judge at Chelmsford Crown Court fined hotel owner Veladail Hotels £100,000 for health and safety violations.
The firm admitted failing in its duty not to "expose guests to risk".
It also admitted contravening a health and safety regulation by failing to make a sufficient and suitable assessment of the health and safety risks.
An inquest in Chelmsford in May 2014 heard the pool had steep sides and a central deep end, which could be unsafe.
Post-mortem examinations found the couple, who could not swim, had drowned.
Judge Anthony Goldstaub QC said: "The defendants [the company] didn't lay down, monitor and enforce a clear and practical structure for the management of health and safety at their hotel.
"There was a culture of complication and confusion and it was systemic.
"They didn't get a grip on safety policies and procedures and in trying to get people to help them to do so, which was fair enough, they didn't co-ordinate the help and act on it efficiently."
Christian Du Cann, for Veladail, expressed the hotel group's "extreme regret at the utter tragedy of two young fit people in circumstances almost unimaginable".
He argued that the admitted breaches did not directly cause the couple's deaths.
Nursing student Miss Foday, from Plumstead, south-east London, had celebrated her birthday with Mr Kpakiwa, from Erith, the previous day.
Craig Vines, the hotel's deputy general manager, told the inquest the pool did not have a lifeguard, and that another guest had expressed concerns about safety.