Mary and baby Jesus stolen from Rayleigh yarn bomb scene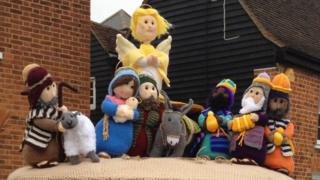 Thieves have stolen a crocheted Virgin Mary holding the baby Jesus from a festive "yarn bomb" scene in Essex.
The figures were part of a display on top of a post box in Rayleigh High Street, installed by members of Craft Club on 17 December.
Member Helen Thomas said whoever removed the two figures had unpicked them "very carefully".
The 20cm (8in) high Mary took "more than a week to make" and her theft has left her creator "very upset".
"Perhaps somebody saw them and thought they'd make nice toys," Mrs Thomas said of the characters, who were first noticed missing on 19 December.
Follow updates on the latest Essex news
This year, Craft Club placed four Christmas-themed yarn bombs on post boxes around south Essex, including in Leigh-on-Sea and Chalkwell.
The club also made a 4.5m (15ft) high Christmas tree made from squares donated from around the world.
The yarn bombs are raising money for the Castle Point Association for Voluntary Services.