Braintree house damaged as car crashes into kitchen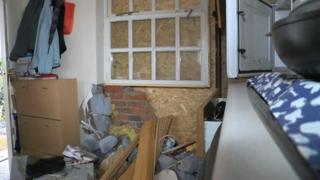 A householder has described how his home was turned "from a castle" to "rack and ruin" when a car crashed into his kitchen.
David Skeates was at home with his family in Twelve Acres, Braintree, when a silver Vauxhall smashed into his home at around 22:30 GMT on Thursday.
He said the driver reversed the Corsa out again before leaving it outside and the three occupants fled the scene.
Police are hunting two men aged between 18 and 20 and a man in his 40s.
After the smash, he said: "As I came from the lounge into the kitchen, obviously I just saw debris everywhere, there was water everywhere, the radiators were across the floor, there were bits of brickwork everywhere.
"I saw the headlights, and I couldn't believe what I was seeing, I was just thinking: 'This cannot be happening to us'.
"And at that point, the driver was reversing his vehicle out of my house and I then ran out and by the time I got there the occupants were missing.
"Words can't describe it - that's our home and we've gone from a castle to rack and ruin - it's horrific."
Essex Police say they are hunting two men aged between 18 and 20, both of whom were wearing hooded jumpers. A third man, believed to be in his 40s, is described as having grey hair and a beard.