Australian Southend United fan travels to Bradford for postponed match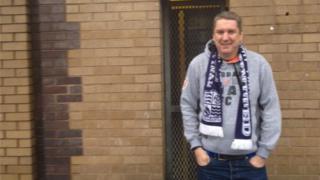 A football fan from Australia travelled to a match 10,000 miles away from his home only to find it was called off.
Southend United supporter Andrew Urry, who lives in Brisbane, travelled to Bradford on Saturday but the match was postponed due to a waterlogged pitch.
"We were told as the coach pulled up outside the stadium," Mr Urry said.
"I got off the coach to have a couple of pictures taken outside the away turnstile, and then we were straight back on the road again."
'Nostalgia trip'
Former Southend resident Mr Urry manages to keep up with some matches via the internet, but a trip to watch the Shrimpers play live was to be a highlight of a trip to Europe.
"I wanted a trip on a coach as a nostalgia trip, as I used to in the old days," he said.
On the coach, Mr Urry used social media to keep him updated with the chances of Saturday's match at Valley Parade going ahead, and said he had a "pretty good idea it was going to be called off".
However, it was not until they arrived at the stadium that the postponement was confirmed by a steward.
Mr Urry hopes to catch Southend's next three home matches, as well as the Boxing Day local derby at Colchester.
The club also made an effort to soften the blow of his wasted journey on Saturday, asking on Twitter: "Would a signed Southend United ball help at all?"