Facebook appeal man from Basildon is arrested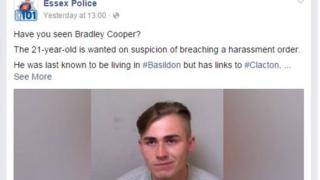 A man who featured in a Facebook appeal after he was accused of breaching a harassment order has been arrested by Essex Police.
Bradley Cooper, 21, of Basildon, was taken into custody on Tuesday.
He is currently being held on suspicion of breaching a restraining order and making threats to kill.
Mr Cooper had been living in Curling Walk, Basildon, an Essex Police spokesman said, when the original appeal was issued.