Stolen ashes found in Pitsea alleyway after burglary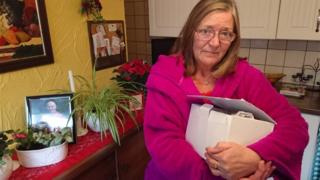 A widow has found her late husband's box of ashes in a nearby alleyway after they were stolen in a burglary.
A purse and jewellery were also missing when Christine Isted, 66, arrived home to find her bedroom in Pitsea, Essex, had been ransacked.
Ms Isted said her husband Anthony died aged 68 a year ago and she was "just getting her life back together".
"I could not believe anyone could be so callous as to take a box of ashes," she said.
Essex Police said the bedroom window had been smashed sometime between 13:30 and 18:00 GMT on Monday 23 November, when Ms Isted was out shopping in Basildon.
'Violated'
Ms Isted said she had £700 in her purse, as first reported in the Echo.
When she alerted a neighbour, he told her there was a sheet in a nearby alleyway and the box of ashes was found wrapped up in it later the same day.
"I feel violated. I'm glad I've got Tony back and one day I'd like to get my engagement ring back," she said.
"I've been out to the local shops again a couple of times, but it's the coming back home that makes me anxious and my hands shake when I open my door."
Mrs Isted said she had originally wanted to scatter her husband's ashes after he died in September last year, but then decided she wanted to keep them in their bungalow on Beambridge Court.
She said she hoped to have her own ashes mixed with her husband's and then her family could scatter them somewhere when they were both dead.