Wanted Basildon man in 'busy body' police Facebook jibe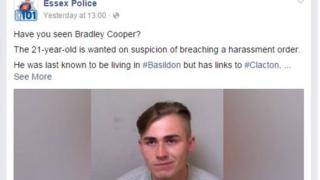 A man wanted for breaching a harassment order seemingly labelled police as "busy bodies" in a Facebook appeal intended to help track him down.
Essex Police posted an update on social media to say officers were searching for Bradley Cooper, 21, from Basildon.
Cooper apparently commented using the profile name "Norman", saying: "Got to love the busy bodies."
Someone else replied, saying: "Yes Norman, also known as Bradley Cooper, writing on your own wanted picture."
The comments were later removed from the police page.
Amsterdam lead
An Essex Police spokesman said they "occasionally get this sort of reaction" from wanted people.
"Essex Police regularly uses social media to encourage members of the public to help us find people wanted for offences," she said.
"We occasionally get this sort of reaction from people who are wanted, but we will continue to use social media because it is such a valuable resource and work is ongoing to arrest this man."
Photos of "Norman" on his Facebook page appear to be of the same person in the police picture. His profile suggests he is currently in Amsterdam.
He has a London accent and is believed to have last been living in Curling Walk, Basildon, officers said.