Clacton beach huts: Council invests £100,000 in hope of profits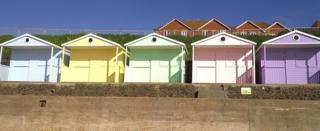 A council investing thousands of pounds on new beach huts hopes to make a long-term profit by leasing them out.
Tendring District Council is building 12 huts at Clacton and Holland-on-Sea in Essex at a cost of £100,000.
Although the rents have not been fixed, the council leases its existing 50 huts for up to £828 a year.
Nick Turner, council cabinet member, said the move was about "maximising the huge investment we have made in these beaches".
The hut-building programme is part of a plan to regenerate the seafront following the completion of £36m of coastal protection work along the Clacton and Holland sea front.
Six huts would be built on the promenade and six on the beach itself.
The council said existing rents range from £480 a year in Dovercourt to £828 for the most recently built huts in Clacton.
The Clacton huts can also be rented for a weekly fee of £100.
The council said there was a waiting list for people wanting to rent beach huts, so it was unlikely they would be sold, but that could be a future option.
The rest of the 3,000 huts on the Tendring coast, which also includes Walton-on-the-Naze and Frinton-on-Sea, are privately owned.