Southend gay man wins damages over homophobic gestures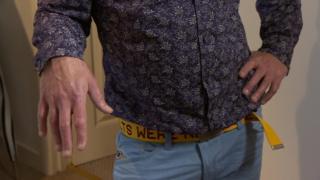 A gay man has been awarded £7,500 in a landmark case after a member of shop staff made homophobic gestures at him.
Southend County Court heard the man had been subjected to months of gesturing by a staff member at Taylor Edwards locksmith in Shoeburyness.
The man, named only as "Tim", brought an action against the shop and won.
It is thought to be the first time a business has been ordered to pay damages for discrimination that was entirely "non-verbal".
Solicitors from Unity Law said the victim had first been abused when he went to ask for a refund on some locks.
When Tim left the shop, the man serving him - Peter Edwards - blew a sarcastic kiss at him.
This was followed by about 20 similar mocking gestures when Tim was passing the shop and Mr Edwards was on a cigarette break, Unity Law said.
'Absolutely chuffed'
Tim went on to bring an action against Taylor Edwards, alleging discrimination under the Equality Act, which prevents anyone supplying goods or services from discriminating against customers on a variety of grounds, including race, religion, disability and sexual orientation.
Even though Peter Edwards was on a work break outside the shop at the time of the gesturing, he was still deemed to be acting in the course of his employment.
"I issued this case to prevent future incidences of discrimination and/or homophobia occurring," Tim said.
"I will be absolutely chuffed if this case prevents one person from carrying out a homophobic act in the future."
Taylor Edwards and Peter Edwards declined to comment on the case.