Man dies after dog pulls him into road in Dovercourt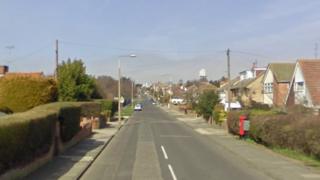 A man has died after his dog pulled him into the road and he was hit by a car.
The man was left with a head injury after his pug-type dog "bolted across the road" in Hall Lane, Dovercourt on Monday evening, Essex Police said.
The dog walker, aged in his 60s, went home but began feeling unwell and died later in hospital.
Police appealed to anyone who saw the man before or after the crash. The dog was not harmed, a force spokesman said.
Following an appeal, the woman driving the car, who stopped to get the dog walker's details after his pet's lead caused damage to her vehicle, came forward to speak to police.
Essex Police initially said the incident happened in Low Road, Dovercourt, but later confirmed it took place in nearby Hall Lane.