Solo windsurfer recalls 'scary' 2,200-mile journey around Britain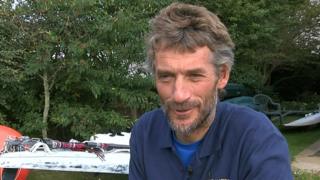 The first person to windsurf around Britain without a water-based support team has said there were "plenty of scary moments".
Jono Dunnett fished for food and sailed with dolphins during his 2,200-mile (3,540 km) journey.
The 41-year-old, who completed his three-month sail in Clacton, Essex, on Saturday, said despite the fears he never doubted his chances of finishing.
"You just take it a day at a time," he said.
"There was plenty of moments when I was scared, but I never really thought I wasn't going to do it.
"If you keep knocking off 30 miles a day and then take a glimpse at the big map once a week, you see you've made a sizeable dent and that gives you motivation."
Mr Dunnett is the fourth person to windsurf around Britain, but the first to do so without a water-based support team.
Following advice from windsurfers and a round-Britain yachtsman he "painstakingly risk-assessed" the project.
He received "some" van-based support and also used a GPS tracker.
Mr Dunnett began the trip on 7 June and dodged ferries at Dover and took on the rocks at Land's End, which he said was his scariest moment.
Near the end his sail ripped, meaning he had to quickly repair it with duct tape to get to the finish line.
"Having got out to Land's End in poor visibility and making my way to where the seas meet, it was pretty rough and unpleasant," he said.
"Then having got to the north [Cornish] coast, there was a really big Atlantic swell and really light winds and no way of stopping until I got to St Ives.
"That was pretty sustained worry that day."
During his trip Mr Dunnett raised money for the Pancreatic Cancer Research Fund and Supporting Tanzanian Orphans and Widows.