Solo windsurfer's 2,200 mile journey around Britain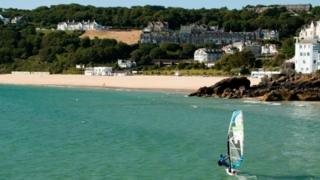 The first person to windsurf around Britain alone will complete his sail today.
Jono Dunnett fished for food, sailed with dolphins and was put up by strangers who read his blog during the 2,200-mile (3,540 km) journey.
He is the fourth person to windsurf around Britain, but the first to do so without a water-based support team.
Mr Dunnett began the fund-raising trip on 7 June at Clacton Pier in Essex and will return there later.
He said: "I got to see places I've never seen before and got to see this island I call home in a unique way."
The 41-year-old was inspired by Tim Batstone, the first windsurfer to sail around Britain, with a support boat, in 1984.
Mr Dunnett took advice from windsurfers and a round-Britain yachtsman and "painstakingly risk-assessed" the project.
He also received "some van-based support" and used a GPS tracker.
The longest distance he covered in one day was 100 miles as he travelled along the south coast.
The windsurfer slept in a makeshift tent made from his sail, but was sometimes given a bed by people who took pity on him when he was pitching his tent in cold, wet conditions.
He said: "Doing something like this, you appreciate the fundamental niceness of people."
But he added: "There are parts of the journey, like Land's End, I would never do again."
Mr Dunnett was also raising money for two charities, the Pancreatic Cancer Research Fund and Supporting Tanzanian Orphans and Widows.