Michael Barrymore sues Essex Police over damaged career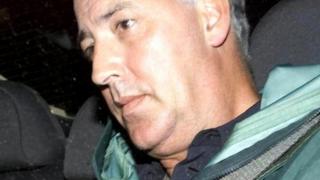 Former TV presenter Michael Barrymore is suing Essex Police over his arrest after a man was found dead floating in his swimming pool.
Stuart Lubbock, 31, was found in the pool at Mr Barrymore's former home near Roydon in March 2001.
The pair had earlier met at a nightclub in Harlow.
Essex Police, which questioned Mr Barrymore before releasing him without charge, said it would be inappropriate to comment as proceedings were active.
The arrest has prompted the ex-Strike It Lucky host to take action against the force for damages to his reputation and career.
The Barrymore/Lubbock case
Post-mortem tests found Mr Lubbock had suffered severe internal injuries indicating sexual assault and his bloodstream contained ecstasy, cocaine and alcohol.
Essex Police said at the time they were committed to establishing how Mr Lubbock died and how he received his injuries.
No-one has been charged over his death.