Mother killer Emmanuel Kalejaiye jailed for life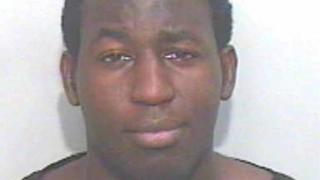 A biochemistry student who killed his mother before dressing up in a woman's pink tracksuit to fool neighbours has been jailed for life.
Emmanuel Kalejaiye, 22, of Wickford, Essex, stabbed his mother to death at their home in September 2013.
Chelmsford Crown Court heard he "drew up plans" to kill Tolu Kalejaiye, 44, "over weeks, if not months".
He denied murder but was convicted of manslaughter on the grounds of diminished responsibility last April.
After delays for psychiatric assessments in a secure hospital, Kalejaiye has been told he will serve a minimum of 15 years and three months.
During the course of his trial, the University of Essex student claimed five masked men had burst into the Wethersfield Way home he shared with his mother and forced him to kill her.
He said the men had forced him to dress in pink clothing and move his mother's car to a nearby location.
But the prosecution said his intention had been to fool their neighbours into thinking she was still alive and had left for work.
Kalejaiye also ran a separate, partial defence of diminished responsibility on the grounds he had been diagnosed with schizophrenia and depression.
Judge Christopher Ball QC described it as "a horrific killing", adding that mental illness had played a part in Kalejaiye's actions and he would receive treatment in prison.
Kalejaiye's defence barrister, John Benson QC, told the court: "It was a horrific incident, harrowing for anybody listening to the 999 call.
"She died in terrible circumstances and he will have to come to terms with taking the life of his mother."