Five men sentenced over half-mile long Purfleet fly-tipping site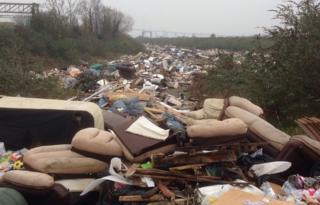 Five men have been sentenced after waste from their homes and businesses was found dumped on a half-mile long fly-tipping site in Essex.
Three thousand tonnes of rubbish was removed from Corys Wharf, Purfleet, at a cost of more than £100,000, earlier this year.
Basildon Magistrates' Court heard many of the defendants had used rubbish removal services advertised on flyers.
A sixth man, Adam Coles of Slaithwaite Road, London, pleaded not guilty.
Mr Coles, 33, will face trial at the same court in August for allowing waste to be transferred to a person who was not authorised.
One of the defendants, dentist Bryan Kerr, 38, from Mayall Road, London, was fined £1,440 and told to pay compensation of £500 to Thurrock Council for the cost of the site cleanup.
He admitted failing to ensure an authorised person disposed of his household waste, having called the number on a leaflet which had been posted through his letterbox, the court heard.
Chairman of the bench Dave Alabaster told him: "Any reasonable person wouldn't find the leaflet convincing."
Pharmacist Rakesh Shah, 45, of Bowes Road in London, was fined £575. He and another man, Jason Ramen from Bunyan Road in Walthamstow, were both ordered to pay £750 each in compensation for the cleanup costs.
Officers searching the fly-tipping site found medical waste, sanitary products, syringes and cough medicine labels from Shah's pharmacy amongst the rubbish.
Disabled ex-serviceman Martin Dansey, who is 45 and from Cranbrook Park in Wood Green, was ordered to pay a total of £1,341 including a fine and compensation, while 24-year-old Abdul Mumin from Sheridan Road in London will pay a £350 fine and £250 compensation to the council.
All five men were also ordered to pay prosecution costs of £560 each, as well as victim surcharges.
"Thurrock's reputation was dragged through the mud across the nation in November and December," said council leader John Kent.
"Now perhaps people will realise it was not local people doing this and the council has acted, both clearing the mess and prosecuting some of those responsible."