Felsted poultry farm fire kills livestock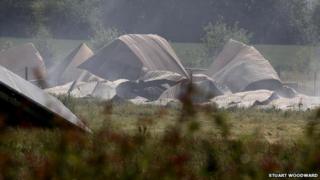 A fire which killed 13,000 chickens in a farm outbuilding is thought to have been started deliberately, police have said.
The 131ft (40m) by 32ft (10m) building in Braintree Road, Felsted, Essex, collapsed after the blaze.
The fire service, which went to Sparlings Farm just after midnight on Thursday, said all of the animals inside had "perished".
It is not yet known how many animals may have died.
Det Insp Alan Stevens said: "There is nothing that would lead us to believe that it was a natural fire and some of the tenants on the farm here say they heard some vehicles just before midnight and then heard an explosion.
"This leads me to suspect it was suspicious."