Tilbury Docks container death case: Men deny people smuggling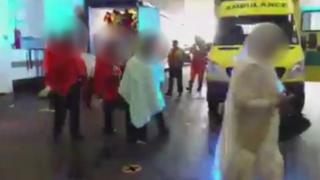 Four men have denied any involvement with an attempt to smuggle 35 people into the UK in a shipping container, in which one Afghan immigrant died.
Meet Singh Kapoor, 40, was found dead in the container at Tilbury Docks, Essex, in August last year.
Stephen McLaughlin, Timothy Murphy, Martin McGlinchey, and Taha Sharif all pleaded not guilty to conspiracy to facilitate illegal entry into the UK.
Their trial begins on Tuesday at Basildon Crown Court.
The group of Afghan Sikh migrants, which included 15 children, arrived in the UK on a ship from Belgium on 16 August. They are believed to have fled Afghanistan after suffering persecution.
Mr McLaughlin, 34, of Limavady, Londonderry was arrested on 20 August by police in Northern Ireland.
Mr Murphy, 33, of Elmgrove, Londonderry attended an Essex police station.
The two other men, Mr McGlinchey, 47, of Derryloughan Road, Coalisland, County Tyrone and Taha Sharif, 38, of High Cross Road, Tottenham, were also detained in connection with the case.
They are all accused of conspiring together and with others unknown to facilitate the entry of persons to the UK who are not EU citizens.