Colchester Hospital NHS trust has most 'never events'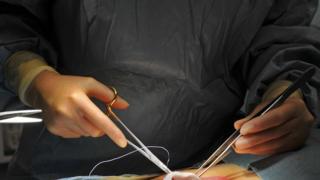 A hospital trust at the centre of a police probe into data manipulation had the highest number of serious patient safety breaches in England last year.
Colchester Hospital University Trust had nine "never events" - errors so serious they should never happen - a jump from one in 2013-14.
The Patients Association said serious and preventable "never events" were "utterly unacceptable".
The hospital said it encouraged staff to report incidents.
Provisional figures from NHS England show the trust had the highest number of "never events" in the country.
There were five cases of items being left inside patients, one "wrong implant" and three "wrong site" surgery cases.
The trust also had 420 "serious incidents" in the past year.
The information has emerged while an Essex Police investigation is continuing into whether criminal offences were committed during alleged cancer data manipulation at the trust.
Katherine Murphy, chief executive of the Patients Association, said: "Incidents of wrong site surgery' and 'retained foreign objects' are utterly unacceptable and pose a huge risk to patient safety.
"A visit to hospital can be highly stressful at the best of times and at the very least, patients deserve to be treated in a safe, regulated environment."
She said although the association accepted accidents did occur, it was "vital lessons are learnt each time to ensure that they are not repeated".
Hospitals with the highest number of never events 2014-15
Hospital trusts
Number of never events
Colchester Hospital University NHS Trust
9
King's College Hospital NHS Trust
8
Mid Essex Hospital Services NHS Trust
7
University Hospitals Bristol NHS Trust
7
Guy's and St Thomas' NHS Trust
6
Queen Elizabeth Hospital, King's Lynn NHS Trust
6
Oxford University Hospitals NHS Trust
6
Wrightington, Wigan and Leigh NHS Trust
6
A spokesman for Colchester Hospital University NHS Trust said: "The National Patient Safety Agency advocates trusts must be open, report and learn from incidents and ranks organisations according to the numbers of incidents reported.
"High reporting of incidents is viewed positively because it shows an organisation encourages transparency and learning.
"The trust, therefore, proactively encourages all staff to be open and to report incidents and has a 'no blame' policy so learning can take place to prevent recurrence.
"Incidents are reviewed on a daily basis by an executive director-chaired panel that determines immediate action which needs to be taken to prevent recurrence and to safeguard the welfare of patients."
---
Have you been treated at Colchester Hospital? Have you been affected by the issues raised in this story? You can email haveyoursay@bbc.co.ukwith your comments.