Thurrock UKIP councillor Robert Ray suspended from party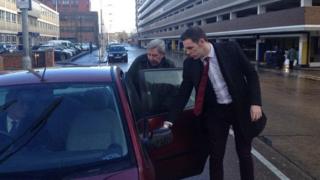 A UKIP councillor who asked police "Do you know who I am?", when he was arrested for drink driving has been suspended.
Robert Ray, 65, admitted drinking and driving after a party function at Orsett Hall Hotel, Essex, last June.
At Basildon Magistrates' Court last week, he was banned from driving for 19 months and fined a total of £1,160.
UKIP has confirmed the Thurrock councillor had been "suspended from party activity".
Ray, who has stood down as chairman of UKIP's Thurrock branch, previously said he regretted the incident, which was "completely out of character".
A spokesman for UKIP said: "The branch would like to thank Mr Ray for his service during this time."
UKIP's leader on Thurrock Council, Graham Snell, will take over as acting chairman of the branch.
The party has yet to confirm how long the suspension will last.
During the court case, prosecutor Samantha Doyle said a member of hotel staff advised Ray not to drive and later called the police.
When officers arrived, they found him in the driver's seat of his car in the car park.
The court was told when Ray spoke to officers, he asked them: "Do you know who I am? I am a prominent councillor, I know the police commissioner."