Thurrock UKIP councillor Robert Ray admits drink-driving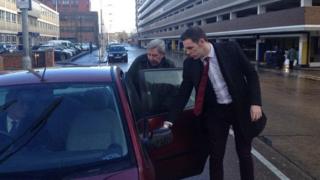 A UKIP councillor who was two times over the legal alcohol limit asked police "do you know who I am?" when he was arrested in his car, a court heard.
Robert Ray, 65, admitted drinking and driving after a party function at Orsett Hall Hotel, Essex, in June 2014.
He was banned from driving for 19 months and fined a total of £1,160 at Basildon Magistrates' Court.
The Thurrock councillor said he regretted the incident, which was "completely out of character".
He changed his plea to guilty having denied the offence at a previous hearing.
'I know the commissioner'
Prosecutor Samantha Doyle told the court a member of staff at the hotel had advised Ray not to drive and later called the police.
When officers arrived, they found him in the driver's seat of his car in the car park.
The court was told when Ray spoke to officers, he asked them: "Do you know who I am? I am a prominent councillor, I know the police commissioner."
He was arrested for not providing a specimen of his breath, magistrates heard.
Jeremy Sirrell, representing Ray, said his client was "never determined to drive".
Ray's wife had fallen down "between his vehicle and another car" when the couple were in the hotel's car park, Mr Sirrell said.
The councillor had moved his car "for just a moment" to be able to reach her, he added.
Mrs Ray died a few months later.
In a statement released following his sentencing, Ray said: "I deeply regret this unfortunate incident that was completely out of character and I apologise to all my residents."