'Smallest Theatre in the World' heading from Essex to India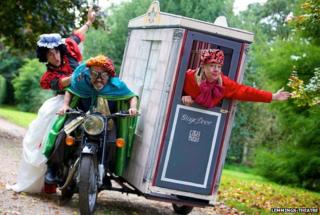 A group of actors is getting ready to take the "Smallest Theatre in the World" - mounted on a motorbike sidecar - to India.
The Grand Theatre of Lemmings, based in Manningtree, Essex, has raised almost £7,000 for the month-long trip.
The Smallest Theatre, built in 1971, has been restored by the company, which has crowd-funded the trip.
The performers will be working with an orphanage in Madurai once the theatre arrives by air freight.
"We're going to work with the children and show them how to produce shows so they can take them out into the community" said company member Mandy Medlicott.
---
A brief history of The Smallest Theatre in the World
Created by actor Marcel Steiner, the Smallest Theatre in the World was made to fit in the sidecar of his motorcycle
It took a week to build, and then embarked on a road show across the UK and Europe with actor and comedian Ken Campbell
In 1979, the theatre made an appearance on Game for a Laugh, and was subsequently a regular feature on Tiswas
Just a year later the theatre burnt down but was rebuilt using funds donated by the public
After Marcel Steiner died in 1999, the theatre remained unused until it was taken over by the Grand Theatre of Lemmings, which restored it with funds from Heritage Lottery and the Arts Council
---
The theatre, which seats just two audience members, comes complete with a box office and auditorium.
The group is also hoping to get a new Royal Enfield motorbike on which to transport the theatre.
"Royal Enfield is the reason we're taking the theatre to India - the motorbikes are made there, what better place to try to get a new one?" said performer Dave Danzig.
The trip will act as a "pilot project" for the company, which is considering a more extensive tour next year.