Harwich Mayflower Project: Build completes first stage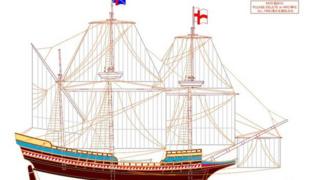 A charity behind a life-size replica of the Mayflower, the ship which took the Pilgrim Fathers to America, has reached the first stage of construction.
Harwich Mayflower Project aims to raise £4m to complete the reconstruction by 2020, the 400th anniversary of the famous voyage.
One of the organisers, Sean Day, said: "We have nearly completed the frame of the keel, which is the first stage."
The charity celebrates its fifth anniversary next year.
It already received the support of celebrities such as Sir Richard Branson who called the scheme a "brilliant, audacious project".
Explorer Sir Ranulph Fiennes has also given his support and will be the guest speaker at a fundraising event at the Palace of Westminster on 12 March.
The Mayflower left Plymouth to sail to America in 1620 and its links with the Devon city been well documented.
However, supporters of the project have emphasised the importance of its Harwich heritage.
It is believed the Mayflower was built in 1590 and the captain and crew for the Pilgrim Fathers voyage were from Harwich.
The ship docked at Plymouth to take extra passengers after setting off from Rotherhithe in London.
The charity, which has already helped train 300 young people in skills such as carpentry, hopes its training centre will act as a "legacy" of the ship build.