Southend Pier Boxing Day race celebrates 60th anniversary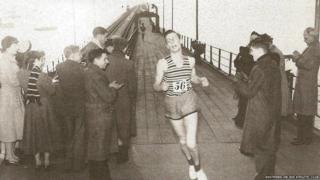 Members of a running club are to work off their Christmas dinners by celebrating the 60th anniversary of a Boxing Day race along the world's longest pleasure pier.
Runners from Southend-on-Sea Athletic Club have been taking part in the two-mile race up and down the town's pier since 1954.
The inaugural event was won by race founder John Tyler, who is now in his 80s and still organises events for the club.
He was inspired by a running track in Budapest, which had been laid down as a "bedding of birch wood", club archivist June Cork said.
The "lovely springy track" resulted in fast times for long distance runners, whose legs did not get so tired.
"One day, John Tyler was running along the pier and thought "this must be how it feels to run on the track in Budapest - why not have a race on this pier?'" Ms Cork said.
Since then, a Boxing Day "Handicap Race" has been organised on Southend Pier every year.
"We could not start everyone at the same time. For a start I'm not sure the pier's boardwalk would appreciate it," Ms Cork said.
"For seconds, the pier is not closed to the public so the race goes ahead around other visitors."
Handicaps for the participants, including those in the line-up for the 1965 race, are worked out on the basis of times for events between 800m and 10,000m.
The fastest athlete sets off last - it gives that person the chance to "race fast", and see how many runners can be overtaken.
"The first runner goes off at 10am and they are staggered according to their handicap," Ms Cork said.
"This year one of the best young hammer-throwers in Britain from our club, Billy Praim-Singh, has said that he'd like to have a go," Ms Cork added.
"That should be something - a thrower running two miles."