Sydney Lindt cafe worker 'saved by trip home to Essex'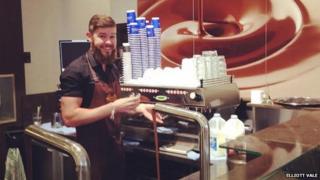 A Sydney cafe worker who returned to England the day before a gunman held his colleagues and customers hostage has spoken of his "lucky escape".
Elliott Vale, 23, worked at the Lindt cafe for three months before flying home to Maldon, Essex, to surprise his family ahead of starting a new job.
Mr Vale said he received hundreds of messages checking he was alright but only got them when he landed.
"Coming home for Christmas was the thing that saved me," he said.
"It 100% would have been me there if I hadn't taken a job back at home or hadn't decided to come back for Christmas.
"But what could have happened to me hasn't been at the front of my mind.
"I've been thinking about my colleagues and friends - I feel guilty that everyone was there and had to experience it, but I had left."
Mr Vale had been offered a job at a cafe in Maldon after spending most of the year travelling the world with friends.
He decided to return to the UK to take up the position after "gaining experience" at the Lindt cafe.
Mr Vale said he only learned of the siege when he landed in Britain and checked his phone.
"I called my mum from the terminal. She explained everything, she was in tears," he said.
"It was so surreal seeing the footage on TV later. I'd spent the last three months going to work, walking up that street."
Three people died during Monday's siege, including the gunman and Mr Vale's former manager, Tori Johnson.
"The first thing on everyone's minds when they speak to me is that I could have been caught up in what happened," Mr Vale said.
"But I wasn't, that's my outlook. It was my friends, my manager, people I had enjoyed working with for the time I was there."