Colchester Hospital cancer data errors 'incompetence not bullying'
Inaccuracies in a hospital's cancer waiting times figures were caused by managerial incompetence rather than bullying of staff, investigators found.
An inquiry into Colchester Hospital in Essex found evidence of "sub-optimal care" but nothing to suggest systematic data manipulation.
A separate review found evidence of "serious managerial failures".
The hospital's chief executive apologised to patients who received "poor care" or delayed treatment.
"I am very pleased there appears to be no evidence of systematic data manipulation at the trust," said Dr Lucy Moore.
"It is important that we now rebuild confidence in the cancer services provided here in Colchester."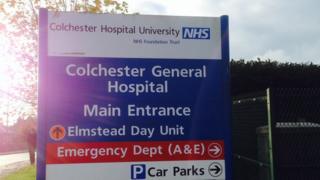 Colchester Hospital University NHS Foundation Trust was placed in special measures in November 2013 after inspectors from the Care Quality Commission (CQC) raised "serious concerns" about staff coming under pressure from managers to manipulate cancer waiting times in order to meet government targets.
The trust conducted a "retrospective review" of 822 cancer patients' cases who were treated between 2010 and 2014 following the CQC's report.
It found 16 cases of "possible deliberate and inappropriate data entry" but reviewers did not find a deliberate intent to falsify figures.
Cancer data 'inaccuracies'
Evidence of "poor documentation and record keeping" was uncovered, as well as a number of patients who experienced "sub-optimal care, diagnosis or treatment".
The report said it was impossible to establish the extent to which patients suffered as a result, but there was clear evidence of harm to at least one patient.
The East of England Strategic Clinical Network, which reviewed the report, said "there was evidence of inaccuracies in the cancer waits data", but this was as likely to negatively affect the trust's performance as it was to enhance it.
"This suggested the issue was one of effectiveness and competence in the cancer management team, rather than a deliberate manipulation," the network said.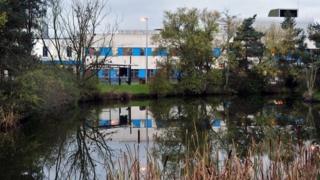 A separate but related inquiry was led by former Anglia Cancer Network chair Carole Taylor-Brown, and former Deputy Chief Medical Officer of England, Prof Pat Troop.
The report was overseen by health regulator Monitor.
It found evidence of poor governance and poor knowledge of whistle-blowing policies.
---
By Julian Sturdy, BBC East investigations editor
After a torrid year at Colchester Hospital, the allegations of bullying and falsifying cancer records are finally dismissed.
The inquiries have been time-consuming and demoralising, but now the hospital can start to concentrating on patient care.
The task ahead is enormous: morale in some departments is low, there's a shortage of staff, high employee turnover and just last month inspectors found staff talking abruptly to patients, failing to treat them with dignity.
Managers still need to get a grip.
Its financial fortunes are also grim. It has gone from a surplus last year to a £14m deficit this financial year.
But fixing the money would mean cancelling operations, delaying clinics and freezing recruitment.
It needs a clean slate to get through this winter.
Patients have suffered from negligence in the past. This is Colchester's chance to start again.
A chance to change the culture and finally put people first.
---
But it stated: "At no time were individuals instructed or bullied to amend cancer or any other data inappropriately by any senior manager."
There was criticism of the way former Finance Director Mike Baker, supported by former Workforce Director Rob Bowman, carried out an original investigation into the allegations in 2012.
Mr Baker resigned when the CQC revealed the allegations.
He told the BBC last December: "I was planning to retire and when I read the report I decided to bring it forward and I resigned. I feel I let my people down."
Those who conducted the inquiry were told a new "validation process" was introduced to the cancer service in 2011.
When one of the team members began to notice changes to the data - which they believed were incorrect - they raised concerns with senior managers, including associate director of the cancer department, Mark Jarman-Howe, who believed the data was correct.
An investigation into the concerns began in February 2012, which has been described as "flawed and mismanaged".
The report said Mr Jarman-Howe's decisions about how to validate data were out of step with his colleagues' understanding of Cancer Waiting Time Guidance.
Mr Jarman-Howe left the trust in 2012.
Cancer services manager at Colchester Hospital, Rachael West, was suspended on full pay in November last year while the allegations were investigated.
Both Ms West and Mr Jarman-Howe, along with other senior manages, were cleared of any bullying and harassment and deliberately manipulating data.
Dr Moore told the BBC that Ms West's future at the trust would be discussed in light of the report.
The trust's Chairman Peter Wilson said although no evidence was found of a "systematic culture of bullying", the issue is taken "very seriously"
Adam Cayley, regional director at Monitor, said: "Today's report should bring a very difficult chapter in the history of this trust to a close.
"It is reassuring to find that there is no evidence of staff being bullied into changing cancer data, but it is even clearer that there were serious managerial failures at the trust."
"The new management team at the hospital is already delivering improvements for patients - a process we expect to see continue," he said.