Man in chicken suit holds Shenfield Station protest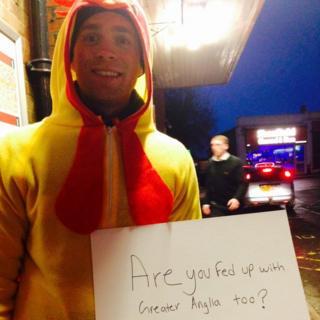 A man dressed as a chicken appeared at Shenfield Station in Essex during rush hour, aiming to give a "voice" to disgruntled passengers.
Colin Crerar, based in London, said he had been "deployed" by passengers using the Quiet Riots app.
They were fed up with Greater Anglia trains being delayed and cancelled, while ticket prices continued to rise.
Greater Anglia said recent delays were caused by engineering overruns, trespassers and equipment problems.
"Passengers using the line feel helpless so are trying to get something done," Mr Crerar said.
He appeared at Shenfield Station holding a placard, asking: "Are you fed up with Greater Anglia too?"
It was a result of Quiet Riots users discussing the issue and then paying about £50 for Mr Crerar to go to the station, he said.
"With Greater Anglia, passengers are not happy that the services and delays are appearing to get worse, but prices are going up. They feel helpless so are trying to get something done.
"The chicken is a bit of fun around a serious issue."
It has been a bad week for commuters using the line from Norwich to London, with cancellations and delays on Monday, Tuesday and Thursday.
Train operator Abellio Greater Anglia said it welcomed customer feedback and worked closely with passenger representation groups.
A spokesman said: "This has been a challenging period for railway performance and a number of factors have affected punctuality, including engineering overruns, trespass incidents and infrastructure problems.
"We recognise how frustrating it is when services are delayed and we are working closely with Network Rail to do all we can to provide more consistent train service performance."
Network Rail, which owns and maintains the track, said it had been a "dreadful week all round" for users of the line.
Steve Cassidy, area director for Network Rail, said: "I'd like to apologise for all the disruptions that have occurred for the travelling public.
"We have had a number of issues, unfortunately these issues have occurred at the wrong time of day."
He said £170m was being invested in upgrading the "ageing" infrastructure and promised things would get better for rail users.