Breck Bednar murder: Body photos 'circulated by killer'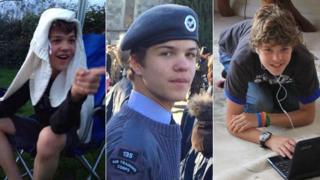 The mother of a schoolboy murdered by a man he met online has said his killer distributed pictures of her son's corpse.
Breck Bednar, 14, was stabbed to death at a flat in Grays, Essex, in February.
Lewis Daynes, 19, of Rosebery Road, Grays, pleaded guilty to murder before his trial was due to start last week.
Breck's mother, Lorin LaFave, said Daynes had taken photos of her son's body and had sent them "to some other boys".
She said her 12-year-old triplets learned of their brother's death because pictures of his body were being circulated.
"They received a text from other friends from school who had siblings, and that's how my triplets found out," she said.
Essex Police, which investigated the murder, said it was not in a position to comment on the claim before Daynes is sentenced in January.
Ms LaFave, from Caterham, Surrey, said she had grown suspicious about her son's communication with Daynes when Breck's behaviour started to change.
"There were several things that led to the fact that made me think Breck was being manipulated and controlled," she said.
"His personality was changing and his ideology was changing and he was starting to refuse to attend church with us.
"I felt like it was because of the negative influence of this person."
Ms LaFave is calling for "more help from the government for online safety", and has set up a foundation in Breck's name promoting responsible use of the internet.
Ms LaFave raised concerns with Surrey Police about her son's relationship with Daynes.
"I think I expected a bit of feedback at the time and I didn't get any feedback," she said.
"I also wasn't recommended to contact CEOP (Child Exploitation and Online Protection Centre), which I found out - when it was too late - is a really great agency that would help parents."
Surrey Police said it had carried out a review of practices in its call centre following Breck's death.
The Independent Police Complaints Commission (IPCC) is investigating the conduct of both Surrey Police and Essex Police.
Civil claims have been brought against both forces over their handling of the case.