Clacton puts up 'splendid' Christmas tree after last year's labelled 'a twig'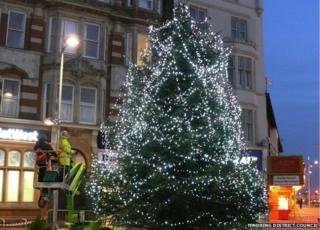 A town which came in for criticism last year over its Christmas tree has made sure a "splendid specimen" is well-dressed for the 2014 festive season.
A 15ft (4.5m) tree displayed in Clacton, Essex in 2013 was labelled "a twig" by critics and replaced.
This year's effort, a 30ft (9m) high Norwegian spruce has been decorated with more than 8,000 LED lights - twice as many as last year.
Pictures of the tree shared on Facebook have been met with dozens of "likes".
Underneath an image of the spruce captioned "not a twig", one Facebook user wrote "First time lucky. Well done".
The tree was donated by the firm which is carrying out a coast defence scheme between Clacton and Holland-on-Sea.
Nick Turner, Tending District Council's cabinet member for environment and coast protection, described the tree as a "splendid specimen".
"It will remain in the town square until it is taken down in early January," he said.
"I am certain that shoppers and traders will see it as a vital part of the town's seasonal festivities."