'Major incident' at Colchester Hospital ends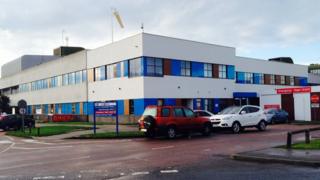 An Essex hospital has resumed normal service, 13 days after a "major incident" in which it was forced to cancel large numbers of operations.
Colchester Hospital had faced "unprecedented demand", with its Emergency Assessment Unit over capacity.
Colchester Hospital University NHS Foundation Trust said it had "de-escalated" the situation.
A Care Quality Commission investigation had raised "safeguarding concerns".
'Serious pressure'
It had inspected the hospital on 12 November, the day before the major incident was declared, and said it would publish a report on its findings "in due course".
Patients were asked to go to A&E only if they had a "serious or life-threatening condition", and 42 non-emergency operations were postponed.
Dr Lucy Moore, trust chief executive, said: "It was clear that at the time of the Care Quality Commission visit that our staff, particularly in the emergency department and the emergency assessment unit, were under serious pressure.
"Pressure in the hospital has now been reduced, not least because people are considering carefully whether they really need to come to the emergency department."
The trust said its focus for the next two weeks would be on discharging about 60 patients who "do not need to be in an acute hospital".