Egyptian sarcophagus found in Essex home sells for £13,500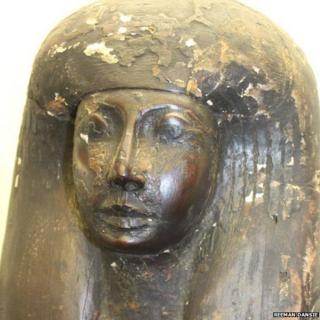 An ancient Egyptian sarcophagus found propped up in an Essex house has sold for £13,500.
The 3,000-year-old coffin was found by auctioneer Mark Stacey while inspecting a property in Colchester as part of a house clearance.
It is thought the 6ft (1.8m) wooden casket once housed the body of a noblewoman.
The buyer, believed to be from the US, paid more than twice its guide price of £6,000 at the auction.
The sarcophagus is thought to have been in the owner's family for about 60 years and may have been acquired after a museum closed down.
Mr Stacey, From Reeman Dansie Auctioneers in Colchester, said both he and the vendor were "very pleased" with the sale price.
"As it's almost a one-off item it's very hard to put a value on something like this, and you never know how the market will react," he said.
The majority of the bidding came from prospective buyers in the United States, he added.
This is the second such item to be found in Essex recently, which Mr Stacey admitted was "a little bizarre".
In September, a 3,000-year-old sarcophagus lid found in a house in Bradwell-on-Sea sold at auction in Cambridgeshire for £12,000 - significantly more than its guide price of £3,000.