Purfleet mile-long fly-tipping site 'absolutely disgraceful'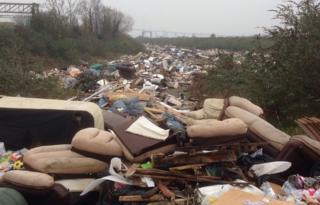 An "absolutely disgraceful" mile-long fly-tipping site in Essex is a "real blight on the area", according to a councillor.
Land at Cory's Wharf in Purfleet, Thurrock, has been used to dump sofas, mattresses, building materials and household waste over several months.
Oliver Gerrish, a ward councillor for the area, described it as "dumping on an industrial scale".
Thurrock Council was unavailable for a comment when approached by the BBC.
Mr Gerrish, a Labour councillor for West Thurrock and South Stifford, said he had been to look at the site and had found "an absolutely shocking situation".
He described the rubbish as "a real blight on the area", saying everyone was "very unhappy".
The councillor could not say how or why the fly-tipping first started.
"It's certainly something I would like to see the council deal with, but it's horrendous we're in this situation in the first place," Mr Gerrish said.
"It's absolutely disgraceful that people would dump that much.
"This mess sends out an important message to landowners to keep their land secure."
Chas Farrant, whose house backs on to Cory's Wharf, said he "had never seen anything like this" in his 30 years of living nearby.
He said he had been told at a local meeting the site would cost about £1m to clear.
"The land was used by dog walkers, but they can't walk there now. My daughter's dog's foot was cut on the rubbish a couple of weeks ago," Mr Farrant said.
Mr Gerrish said Thurrock Council was aware of the site and was looking to go and assess if there was any dangerous or toxic material.
"My advice is for people not to explore it or to go on site until it's had a chance to be cleared," he said.