Colchester Hospital 'major incident' goes into second week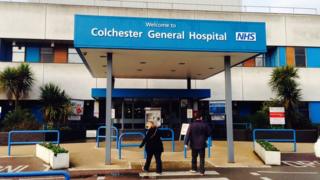 A "major incident" in place at a hospital is to continue into a second week, the BBC has been told.
Colchester Hospital's A&E unit was found to be facing "unprecedented demand" during an inspection last week.
Since the incident was declared on 13 November, patients have been asked to come to A&E only if they had a "serious or life-threatening condition".
A hospital spokesman said the "internal major incident" would remain in place until at least Monday.
"We'll review again on Monday with our partner organisations," he said.
During a Care Quality Commission (CQC) visit to Colchester General Hospital on 12 November, inspectors raised "safeguarding concerns" about the A&E department and the Emergency Assessment Unit.
The CQC confirmed it was looking into an allegation that had been made over A&E waiting times.
The health watchdog will publish a report of its findings "in due course".
While the "major incident" is in place, patients with minor injuries are being asked to visit walk-in medical centres or minor injury units in the area.
Colchester's walk-in centre has been "very busy" all week, a spokesman for North East Essex Clinical Commissioning Group (CCG) said.
"There are peaks and troughs which we do our best to manage," he added.
---
The 'major incident' in numbers
Thirty-seven "elective" - non-emergency - operations were cancelled in the first four days after the incident was declared
Under normal circumstances, 15 elective procedures would be carried out each day, excluding day case surgery
Day case surgery is still being carried out - 50-70 of those are normally scheduled for each day
On Monday, 165 patients went to A&E. On a normal day, the hospital would expect 230-240, and sometimes as many as 290 A&E admissions in a day
---
Minor injury units in Clacton and Harwich had also reported a busier week than normal, the CCG spokesman said.
Colchester's hospital trust spokesman said pressure on services had eased during the week, and the situation was being reviewed daily.
"We have also been able to reduce the number of non-emergency operations we have postponed, but the hospital remains busy," he said.