Man jailed for Basildon underpass rape and assault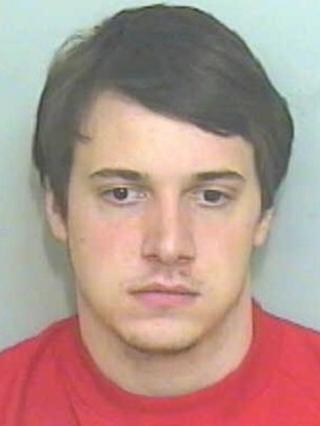 A man who raped and beat a woman in an underpass in Essex has been jailed for nine years with a further six-year extension under licence.
Nathan Morgan, 23, of no fixed address, was sentenced at Basildon Crown Court after admitting rape and assault on the 23-year-old woman.
The rape attack happened in an underpass near Broadmayne in Basildon on Friday 18 July at about 23:30 BST.
The woman had been walking home and suffered head injuries in the attack.
Morgan later handed himself in at Grays police station, the court was told.
Det Insp Richard Sage, of the Sexual Offences Investigation Team, said: "This was a horrendous attack on a lone woman as she walked home from a night out with friends.
"She has been receiving support and hopefully will be able to recover from the traumatic experience."
'Brutal physical violence'
Michelle Brown, of the Crown Prosecution Service, said: "Nathan Morgan appears to have selected this lady at random after he saw her in the street walking home.
"He turned round, followed her, and attacked her once she entered the underpass.
"He subjected her to brutal physical violence by banging her head on the pavement, tore her clothes and then raped her.
"He also tried to smash her mobile telephone to stop her from calling for help but fortunately, he was unsuccessful. She was able to call a friend who came at once and took her immediately to the police station.
"Our case was so compelling that he pleaded guilty at an early stage."