Harlow cabbie's prostate cancer advice to passengers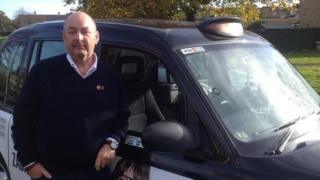 A taxi driver who has prostate cancer is telling all his passengers about the disease to raise awareness of how to spot symptoms.
Stephen Barker, 52, from Harlow, Essex, was diagnosed with early-stage prostate cancer in September.
He said he found many of his friends and colleagues were unaware of the symptoms or how to check themselves.
His aim is to get his passengers to recognise the signs and diagnose the disease early.
"When I was first diagnosed with prostate cancer, I found a lot of people didn't have much idea about it," he said.
"My message is about awareness - getting them to check themselves and getting that appointment at the doctors if there's anything wrong."
'Terrible disease'
Mr Barker's condition was diagnosed at an early stage so surgery has not been required, but he has been told he will have regular tests, biopsies and scans to monitor his condition.
"What we need to do is make other guys aware of health issues," he said.
"A lot of men don't want to talk about it, but people coming into my cab are actually starting to talk about it."
---
Prostate cancer
Only men have a prostate gland
It is walnut-sized and surrounds the urethra just beneath the bladder
Prostate cancer is the most common form of cancer in men with 40,000 diagnoses each year
About 250,000 men are living with prostate cancer in the UK
One in eight men will get prostate cancer
Main symptom is problems with urinating
A variety of treatments are available
Source: Prostate Cancer UK
---
Mark Bishop, director of fundraising at Prostate Cancer UK, said: "Steve is doing a fantastic job raising awareness of prostate cancer amongst his passengers and raising funds to tackle this disease with our partner Movember this month.
"We wish Steve all the best and thank him for being part of the battle against this terrible disease."