Cavity foam Halloween attack leaves Southend man burnt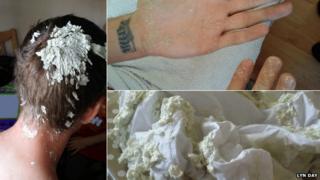 A man was left with burns after he was attacked by Halloween pranksters who covered him in quick-setting insulation foam.
The masked men sprayed Michael Day, 21, with cavity wall foam near his parents' home in Archer Avenue, Southend.
The material, which was "rock hard" within minutes, burnt skin off of his hands and scalp, his mother Lyn Day told BBC News.
"If it had gone in his nose or mouth, he would have suffocated," she said.
Lucky escape
Police are investigating the assault, which happened on November 1.
Staff at Southend Hospital, where Mr Day was treated, told his family the foam would have impaired his vision if it had welded his eyes shut.
Mrs Day said: "Michael could have been hurt more seriously - we're lucky we've still got him with us.
"We could have been finding his body out in the street, covered in foam.
"I would like to believe whoever did this didn't know how dangerous the foam was. They might not have realised the implications of spraying it on someone."
An Essex Police spokeswoman said officers were contacted on Saturday evening with reports Mr Day had been assaulted in Hanstel Road at 04:00 GMT.
"The victim was on his way home from a party and had described the men as wearing Halloween masks," she said.
Anyone with information about the attack is asked to contact Southend Police on 101.