Essex Cares losses put 100 jobs at risk, staff told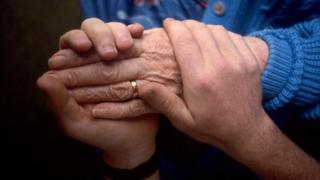 Up to 100 care worker jobs are at risk as a loss-making Essex County Council-owned firm struggles to get into profit, the BBC has learned.
Essex Cares, which was set up by the council in 2009, made a pre-tax loss of more than £800,000 last year.
In a statement, the firm's chairman Peter Martin said: "We are not a profitable organisation... this cannot continue if the company is to survive."
Unions have described the plans as a major concern to staff.
Essex County Council is the sole shareholder of Essex Cares, a local authority trading company, which is allowed to make a profit out of providing services to its clients.
When it was established it was the first such firm to be set up in the UK, and provides support for elderly and disabled people at home and in activity centres.
Although it made a pre-tax profit in each of the financial years up to 2012-13, the firm made a loss 2013-14 financial year.
As a result, managers are proposing reducing the management and administration workforce by the equivalent of 24 full time posts.
But in a document seen by the BBC, the company said: "The number of redundancies may be higher as there may be some skills gaps that cannot be addressed."
'Extremely concerned'
It goes on to say that "the maximum possible number of redundancies is therefore estimated at 100 headcount".
The document adds the company is planning to bring in changes in two phases, with potential cuts in staff being made at the second stage.
Michelle Bradley, union Unison area organiser, said: "We are extremely concerned. We have a large number of members working for Essex Cares. It is clearly in the early days and the company has started consultation."
Essex Cares said in a statement: "The increasing demand for our services now and in the future means we need to be an organisation that is responsive to customers changing needs.
"The economy too is in a very different place from when we set up business five years ago and we need to become a more profitable and sustainable business.
"In recent months we have spoken and listened to our employees about how they see the future and what changes we can make that will help them deliver a great service for our customers."