Rochford 'filthy rail line has tomatoes growing on it'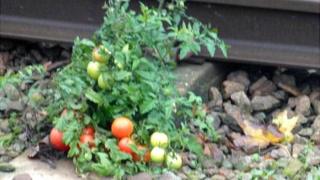 Tomatoes are growing on a railway line that is strewn with human waste, a transport union claims.
The Rail, Maritime and Transport Union (RMT) said a member took the picture of the flourishing plant on the line at Rochford, Essex.
It said it has grown on a stretch of track "notorious" for the amount of human waste dumped from trains.
A spokesman for the Rail Delivery Group said it took the issue "seriously" and was addressing the problem.
The photo was taken on a section of line between Southend and London's Liverpool Street station.
'Filthy' conditions
RMT general secretary Mick Cash said: "Tonnes of human excrement are being dumped straight on the tracks while the private train companies make huge profits and the government does nothing.
"Not only does this create filthy and dangerous working conditions for rail staff... but it also shows that the government is prepared to tolerate this scandal."
The Rail Delivery Group, which represents train companies, freight operators and Network Rail, said: "The rail industry takes this issue, and feedback from customers and staff very seriously and understands that it can be very unpleasant for track workers.
"Investment in new rolling stock since the mid-1990s means the majority of trains do not have to discharge waste onto tracks, and we continue to find ways to modify older vehicles.
"The minority, which do not have toilet tanks fitted, will reduce further as new trains are introduced."
Germination 'feasible'
BBC Essex gardening expert Dave Gillam said tomato plants could germinate from seeds found in human excrement.
"Quite often it is the case where seeds have a casing where they can pass through the digestive systems of animals and humans," he said.
"When grown commercially tomatoes are not in soil - they are quite capable of growing with water alone and the drainage and aggregate of the track would help."