Seaside railway posters make £13,207 in New York auction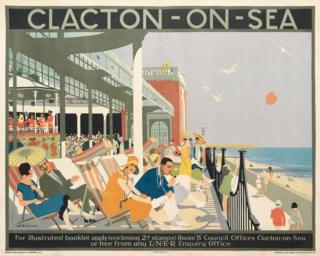 A collection of vintage railway posters fetched £13,207 when they were auctioned in New York.
Northampton-born Henry George Gawthorn was one of the artists who created the five posters to promote East Anglia's seaside resorts.
The artworks, produced between 1923 and 1947, were sold at Swann Galleries.
The highest amount paid was £3,459 for a 1933 London and North Eastern Railway poster of Felixstowe by artist John Littlejohns.
The colourful posters were commissioned by rail companies and displayed on station platforms.
The 1926 Clacton poster by Gawthorn sold for £3,301 at Tuesday's auction.