Anglian Water blames Essex flooding on 'poor river maintenance'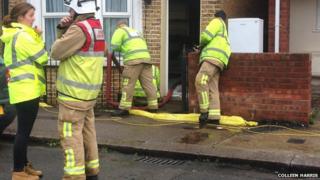 Failure to maintain a river has been blamed for flooding that damaged homes in Essex.
Helen Williams, from Christchurch Road in Tilbury, said her kitchen floor, laid three weeks ago, must be ripped up after rain flooded her home on Monday.
Anglian Water said their pipes drain into a river Thurrock Council and the Environment Agency should maintain.
Thurrock Council said pumps were being used to protect homes as maintaining the connection was difficult.
Ms Williams said: "I had a new floor three weeks ago and now it's completely ruined and needs to be ripped up and replaced.
"Water has got into my washing machine, tumble dryer, fridge and everything else."
Anglian Water said it was nothing to do with them.
Solution 'months away'
"We've CCTV'd all the pipes in the area, and they're all working as they should," a spokesman said.
"The problem is where it discharges into a water course which is maintained by Thurrock Council or the Environment Agency - it appears not to be properly maintained."
Thurrock Council accepted that the problem was where the sewer outfall met an Environment Agency maintained river.
"However, fixing this is difficult because of its proximity to the foundation of a road in the area," a spokesman said.
"In the short-term we are trying to arrange a pump solution to ensure the water does not affect these homes."
A spokeswoman for the Environment Agency said: 'We're satisfied that the main river, which is the Environment Agency's responsibility, has sufficient capacity to cope with water from heavy rainfall draining into it.
"We are in discussion with Anglian Water and Thurrock Council over the best way of ensuring the water from their drains reaches the main river."
Essex Fire and Rescue said it had to pump water out of 15 homes after the heavy rain.