Homes in Essex left flooded amid heavy rain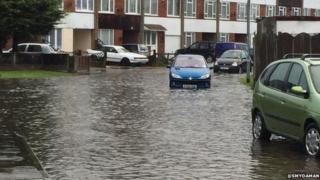 Homes in Essex have been left flooded after heavy overnight rain.
Firefighters said crews responded to a large number of calls to houses and these continued into the morning.
Crews have attended more than a dozen incidents and have pumped water out of properties in Letzden Road at Canvey, Christchurch Road in Tilbury and Merricks Lane in Basildon.
Drivers also experienced long delays due to flooding on the southbound A12 Chelmsford bypass, police said.
The Environment Agency has issued three alerts, warning residents to be prepared for flooding in the county.
Canvey's Castle Point MP Rebecca Harris said: "Frankly, I am outraged. For some people this is the fourth time in a little over a year they have been flooded.
"I have called an emergency meeting of all the flooding agencies involved at the House of Commons to thrash out what can be done.... my residents cannot go on through autumn fearing every drop of rain."