Douglas Carswell UKIP win a 'crying shame' for Clacton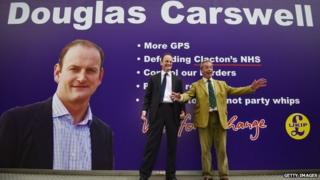 The victory of UKIP's Douglas Carswell in the Clacton parliamentary by-election is "a crying shame", according to a mayor in the constituency.
Iris Johnson, the Independent mayor of Frinton and Walton, said she did not think Mr Carswell would effect change.
"By going over to UKIP, he's got no party backing now. How's he ever going to get anything done? He'll just get outvoted every time," she said.
Mr Carswell won the seat with a 12,404 majority.
He acted as Conservative MP for the area for nine years before defecting to UKIP in August.
When asked about his chances of success as a lone UKIP MP, Mr Carswell said he was confident he could change things.
"If you're prepared to argue your case and persuade people, there's a lot you can achieve," he said.
But Mrs Johnson, who belongs to independent party Tendring First, said she did not think he would be successful.
"As one person put it, he did diddly squat for our area when he was a Conservative MP," she said. "He's full of the joys of spring at the moment - I would be too, if I was him.
"But I think it's a crying shame he's won."
Her views were echoed by former Labour MP for Harwich, Ivan Henderson, who was defeated by Mr Carswell in 2005 and 2010 elections.
"What you need is an MP who can open doors to government departments to try and solve problems. I'm afraid those doors will be now closed on Clacton," he said.
"Aside from that, how will local councillors be able to work with him to get him to talk about local issues with the government?"
Speaking after his election victory, Mr Carswell said he had praised the work of Tendring District Council throughout his campaign.
"Common sense isn't defined by the colour of rosette you wear," he said.
"I'll work with any local district councillor who's got the best interests of Clacton at heart. I'll put pride and partisan considerations to one side."
Elsewhere in the county, a by-election to choose a new Essex County Councillor was won by Conservative candidate Alan Goggin.
Until last month, the seat had been held by UK Independence Party councillor Roger Lord.
Mr Lord announced he would stand down, and quit the party, after being ousted by Mr Carswell as UKIP's parliamentary candidate for Clacton.